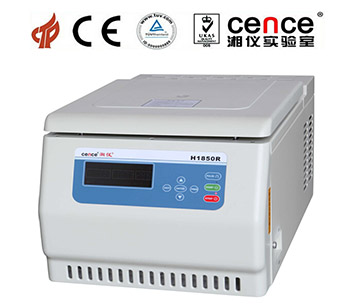 H1850R Table Top High Speed Refrigerated Centrifuge
Place of Origin:
China

Brand:

Xiangyi

Model:

H1850R

Price:

cence@cence.cn

Hits:
7521

Updated:
2/15/2023
Product Detail
Company Profile
◆ Microprocessor control , the imported compressor with refrigeration
◆ Operated by touch through front plate , digital display .
◆ The function of electronic lock door , over-speed , over-temperature for safe operation with short acceleration and deceleration .
TECHNICAL PARAMETER:
Model H1850R
Max Speed 18500r/min
Max RCF 23797×g
Max Capacity 4×100ml
Speed Accuracy ±50r/min
Temperature Range -20℃~40℃
Temperature Accuracy ±1.5℃
Time Range 0~99min
Noise <65dB(A)
Motor DC brushless motor
Power Supply Ac220V 50Hz 15A
Dimension 410×700×360(mm)
Weight 90kg

Rotor
No1 Angle rotor: Max Speed: 18500; Max RCF: 23797xg; Capacity: 12x1.5/2.2ml
No2 Angle rotor: Max Speed: 12000; Max RCF: 13200xg; Capacity: 8x15ml
No3 Angle rotor: Max Speed: 13000; Max RCF: 17370xg; Capacity: 12x10ml / 12x7ml / 12x5ml
No4 Angle rotor: Max Speed: 12000; Max RCF: 14280xg; Capacity: 6x50ml
No5 Swing rotor: Max Speed: 5000; Max RCF: 3773xg; Capacity: 4x100ml
No6 Micro plate rotor: Max Speed: 3000; Max RCF: 1400xg; Capacity: 2x2x48well
No7 Angle rotor: Max Speed: 14000; Max RCF: 17510xg; Capacity: 24x1.5/2ml
No8 Angle rotor: Max Speed: 13000; Max RCF: 12806; Capacity: 48x0.5ml;
No9 Angle rotor: Max Speed: 11000; Max RCF: 11720; Capacity: 4x100ml
NO4 Angle Rotor (6x50ml) and NO8 Angle rotor (4x50ml) equipped with peaked bottom duct

XiangYi Centrifuge Instrument CO., LTD., which is located in the high and new technology industrial development zone of Changsha, is a shareholding system company that is reformed and set up on the basis of Hunan Instrument and Meter General Factory. And she is a high technology industry mainly engaged in manufacturing centrifuge with over 30 years. The first refrigeration centrifuge (50000 r/min) and high-speed refrigerated centrifuge (20000 r/mins) in China were all made in Xiangyi.

Our company is rich in scientific research strength, equipped with superior equipments and advanced apparatus.

Cooperated with domestic famous university on technology to produce the microprocessor control high-speed refrigerated centrifuge with frequency conversion, the low-speed large capacity refrigerated centrifuge and other centrifuges in recent years. Xiangyi also has taken the lead in realizing that all serials of centrifuge with no brush. Our company holds a leading position in the centrifuge competence of technical feature in China and has adopted high and new technology to manufacture serials of oscillators (tabletop) and serials of biochemistry incubators. The centrifuges made by our company have widely applied in universities, colleges, scientific research institutions, bio-pharmaceuticals, central blood stations and hospitals in China.

"Quality is the highest request, empressement is the foundation" is our motto. We will base on our country; move towards the world to face the future, offer the first-class products and first-class prestige to our customers.

Leading technology is the reliable assurance for our company to catch up with the domestic and international advanced technology of centrifuge. Innovating constantly is the eternal pursuit for our company to develop continuously. We will step steadily for setting up the largest laboratory Instrument production base in China.