Top Magnetic Mixing Stainless Steel Bioreactors




stainless steel bioreactors,stainless steel fermenters,cell culture bioreactor,magnetic mixing bioreactors,standard bioreactor

LBR-XSC

LABOAO

Any port in China
Description
Stainless steel shaft coupling drive bioreactors fermenters using a strong magnetic upper magnetic stirring system, main body is made of all stainless steel 316L tank with no dead corners in the tank, fully sealed, zero leakage, and pollution-free, changing the dynamic seal into a static seal, completely solving the problem of bacterial contamination in the cultivation of biological product tanks, suitable for long cycle and non-dominant bacteria.
Feature
1. The material is 316L stainless steel, the view on the tank lid is relatively open, and the operation and cleaning is very convenient; the polishing accuracy of the stainless steel is Ra≤0.4; the part in contact with the material is 316L
2. AC motor, which can run in harsh environments;
3. Rotameter display, adjust the flow of gas according to process requirements
4. Adopt strong magnetic upper magnetic stirring system(full sealing, zero leakage, no pollution, changing the dynamic sealing into static sealing, completely solving the problem of bacterial contamination in the cultivation of biological products tank);
5. Straight blade agitating paddle (two-stage), mechanical compression defoaming paddle (first-stage)
6. Fermentation pH control function: using intelligent PID control, special PH electrode;
7. Fermentation dissolved oxygen degree control function: using intelligent PID control, dedicated DO electrode;
8. Electric heating, water cooling, with good heat exchange efficiency;
9. Complete replenishment system
10 in-situ sterilization;
Specification
| | |
| --- | --- |
| Model | LBR-XSJ series |
| Volume | 5~5000L optional |
| Diameter to height ratio | 1:2~2.5 |
| Feeding volume | 70% |
| Material | Stainless steel 304/316 |
| Function | PH/DO/Foam/Temp control |
| Tank pressure | manual adjustment, pressure gauge display; range: 0~0.20Map; |
| Sterilization method | Automatic or manual sterilization |
| Stirring Speed | 50~700rpm stepless speed; accuracy: ±1rpm |
| Temperature detection | range: cooling water temperature +5~55℃; accuracy: ±0.1℃; resolution: 0.1℃; |
| pH detection | range: 2~12ph; control accuracy: ±0.02ph, resolution: 0.01ph; |
| DO detection | range: 0~100%, control accuracy: ±3%; resolution: 0.1%; |
| Foam control | electrode detection, peristaltic pump replenishing |
| Ventilation | manual adjustment, flow meter display; |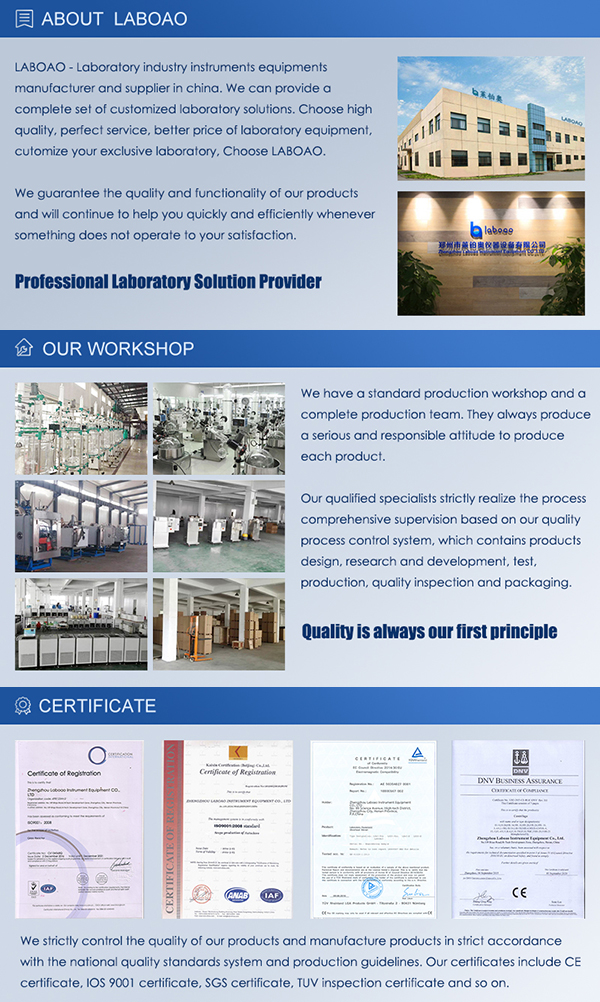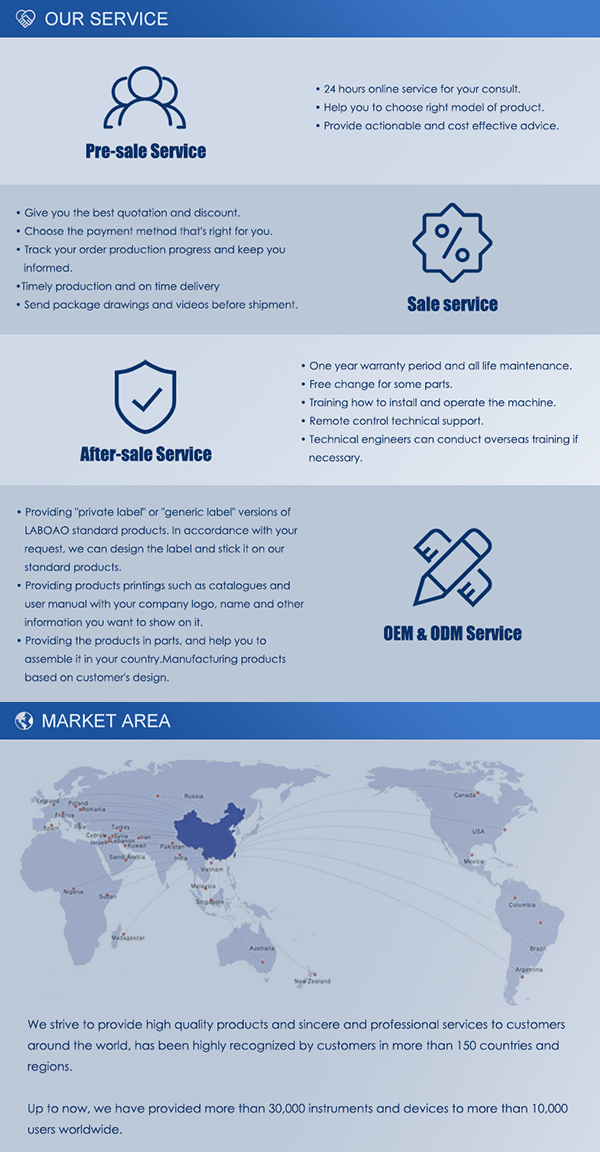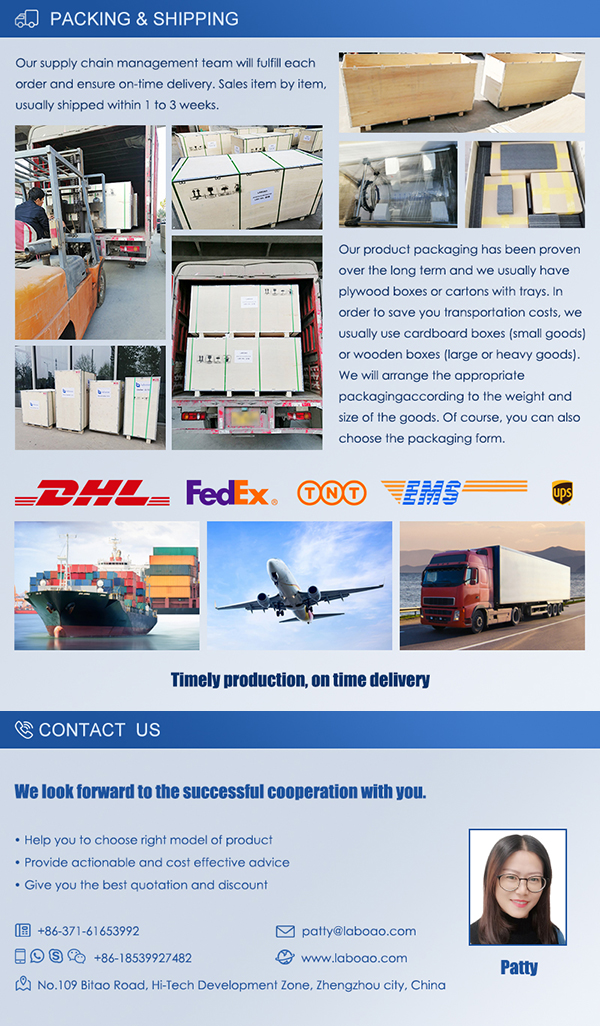 Zhengzhou Laboao Instrument Equipment Co., Ltd (LABOAO) is a high-tech enterprise integrating R&D, production, sales, import and export, and is a leading laboratory equipment solution provider in China. LABOAO is headquartered in Zhengzhou, China. It has a group of excellent management and technical personnel who strive for excellence and constantly pursue progress and innovation. After fifteen years of hard work, it has achieved sustained and steady development, and its products are exported to Europe, America, Southeast Asia, the Middle East, South Africa, etc. 150 countries, we are working hard to establish a global regional service agency to provide better services and products for global customers.

The company has always adhered to the corporate tenet of "innovative technology, life first", focusing on laboratory research, life science, biomedical engineering and other fields, focusing on continuous innovation and development, improving the technical content of products, enriching product categories, realizing product upgrades, and gradually strengthening the enterprise. Core competitiveness, LABOAO regards product quality as the vitality of the enterprise, all our products have undergone strict testing and quality inspection, and have established a set of strict internal quality control system in accordance with international quality standards, and meet strict international standards. So far, the company has passed ISO9001 quality management system certification, EU CE, SGS, TUV, CNAS and other certifications.

LABOAO's main business involves laboratory instruments/consumables, life science instruments, chemical analysis instruments, optical instruments, medical equipment, drug inspection instruments, agricultural instruments, food inspection instruments and other industry-related instruments. Our products are widely used in laboratories, scientific research institutions, universities, chemical companies, hospitals, new energy, agriculture, food, metallurgy and mining, construction, petroleum and other industries.

The company introduces world-class automated production equipment and production technology, and continuously expands production capacity to meet customer needs. The investment of advanced production equipment and software facilities makes the enterprise more international standardization and standardization. LABOAO actively carries out various cooperations such as OEM and ODM with world-renowned enterprises. In continuous practice and application, LABOAO will continue to provide high-quality products and services to global customers.
Our company has 78 employees and 20 R&D teams. More than 85% of the company's employees have more than three years of professional foreign trade experience. 10% of the annual sales are focused on product development and improvement. We believe that only excellent teams can High quality service is good for customers.

We advocates the corporate spirit of "integrity, dedication, integrity, cooperation". With its rich network marketing experience, corporate strategic management and talent advantages, the company constantly explores the past, forms an international channel brand, and incubates international brands with Internet thinking. Mission, strive to achieve our vision of redefining the premium and impact of Chinese products in the global market!